By: Nina Lakhani, The Guardian
December 27, 2020

Debra Haaland is making American history.
The 60-year-old congresswoman from New Mexico will next month become the first Native American cabinet secretary in US history, when she takes responsibility for the country's land and natural resources as head of the Department of the Interior under Joe Biden.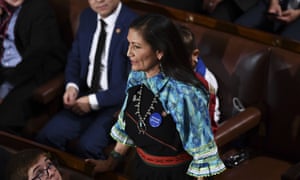 Haaland is a member of the Laguna Pueblo, one of 574 sovereign tribal nations located across 35 states. According to the 2010 census, 5.2 million people or about 2% of the US population identifies as American Indian or Alaskan Native – descendants of those who survived US government policies to kill, remove or assimilate indigenous peoples.
Come January it will also be Haaland's job to uphold the government's legally binding obligations to the tribes – treaty obligations which have been systematically violated with devastating consequences for life expectancy, political participation and economic opportunities in Indian Country.